The intensive EMDR outpatient program is designed for individuals who would like to reduce their trauma symptoms a lot faster than it would take by attending therapy once per week. If trauma symptoms are affecting your life in a negative way, impairing you from working, going to school or performing necessary daily tasks then this is a great program for you, although it can benefit anyone who wishes to reduce their trauma symptoms quicker.

For example, in traditional therapy, one traumatic event could take about two months to six months to clear out. In this program we will dive into the trauma work for three hours twice a week which means that trauma could be cleared in one week to one month of intensive therapy.
The first day will consist of detailed history taking, creating a trauma timeline, creating coping tools as needed and will end with a session of energy healing.
The following day(s) will consist of various somatic practices as it is needed, and as deemed appropriate for each client such as meditation, art, energy balancing, breath work and trauma processing using EMDR and cognitive re-structuring in order to achieve quick results.
We will have two 10-minute breaks during the session.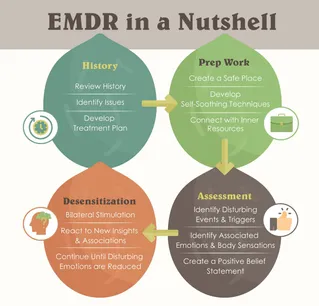 The cost per day is $750 due at time of booking.